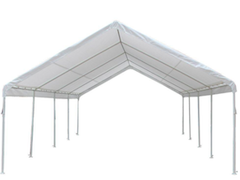 18x27 Tent Includes Setup
Perfect for Tight Spaces!
18'x27' canopy tent recommended for casual events such as business . Price includes setup, breakdown, anchors and tiedowns for grass. An additional fee will be calculated if placed on a hard surface. Delivery must be added to your cart. You can find the item under the "services" tab.
A 5 foot clearance on the sides of the tents are required for achoring. The lot must be level and no power lines, tree limbs etc can hang where the tent will be placed. Please call us with any questions.
Tent holds five 60" round tables.