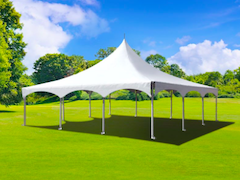 30x30 High Peak Tent Includes Setup




$695.00

Please call to reserve this item

Our sleek, stylish 30x30 high peak tent is perfect for elegant outdoor events such as weddings, receptions, graduations and other special events. Unlike many other tents this size, a center pole is not required for support so it will not obstruct your table layout or view. Lighting and draping can be added to make this already stunning tent even more sensational.

Besides aesthetic appeal, this high peak tent is a popular choice because sidewalls can be added to provide shade, warmth and protection from rain and wind. Each wall is an additional $45. Please note that a fire extinguisher and exit sign must be rented for $13 if sidewalls are added. Price includes setup and breakdown. High peak tents must be installed by Bloom.
This tent must be installed in grass (no concrete or other hard surfaces).
Please note that it is very important that your land is level and we have a minimum of 40x40ft working area where the tent will be located. This means that trees, walls, fences, flower beds, etc. must not interfere with this space. Please also confirm that power lines and trees are high enough to clear the tent top. Our stakes are 3ft long so you are responsible for locating any underground utilities and septic systems. Please see out Q&A page or call us for more information.
Seating Capacity:
75 Guests for Sit-down dinner
90 Guests for Buffet-style dinner
112 Guests for Cathedral (row) seating
180 guests for Cocktail party
Tent Area: 900 sq. ft.
Eave Height: 9'
Overall Tent Height: 20'5"
* A minimum of 8 feet must be available on all sides for staking
*Customer is responsible for locating pipes septic tanks, sprinklers prior to the event