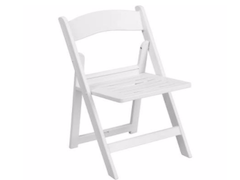 White Garden Chair
Our garden chairs offer an elegant touch to any event!
Our chairs are made of resin, not wood, which means they are lighter weight and very durable. They fold and stack nicely, but an SUV or truck is necessary for transporting more than 6.
Pickup yourself (proper transportation and straps required) or add delivery under the "Services" tab.
Delivery/pickup $70+ within 18 miles of 27106.
Minimum for delivery $150